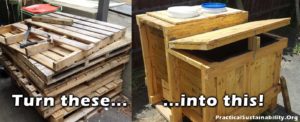 Project goals:
Build a small Aquaponic fish tank for under $20.
Integrate a Swirl Filter.
Integrate a Bio Filter.
Use recycled materials whenever possible.
NO complex timber joints  – keep it simple.
Leave space for easy insulation installation.
Use simple hand tools whenever practical.
Materials Required:
6 timber pallets.

You can often get these for free, look in your local classifieds. For this project we found a nearby self storage business that had an entire room full of timber pallets they were trying to get rid of. If the pallets are old and weak you may break some timber trying to pry it apart. If so, get 7 or 8 pallets.

Two buckets (The bigger the better).

Many kinds of food service businesses will use buckets, and throw them away once they are empty. Ask your locals! Our buckets came from a local Fish & Chip shop – thanks Amanda!

Some Builders Plastic or other plastic sheet. Two  2m x 3m sheets minimum.

This is something we had to buy. It took about half of one of the smallest, cheapest rolls available.

50 screws minimum.

Outdoor timber paint or timber oil.

I used linseed oil on this project. Good, cheap, and reasonably natural.
Tools Required:
Hand saw
Screw gun
Hammer
Stapler (or thumbtacks)
Cheap paintbrush
Time to get started!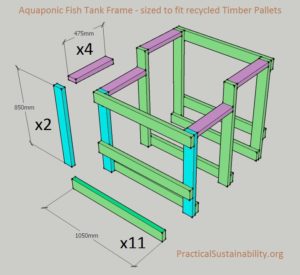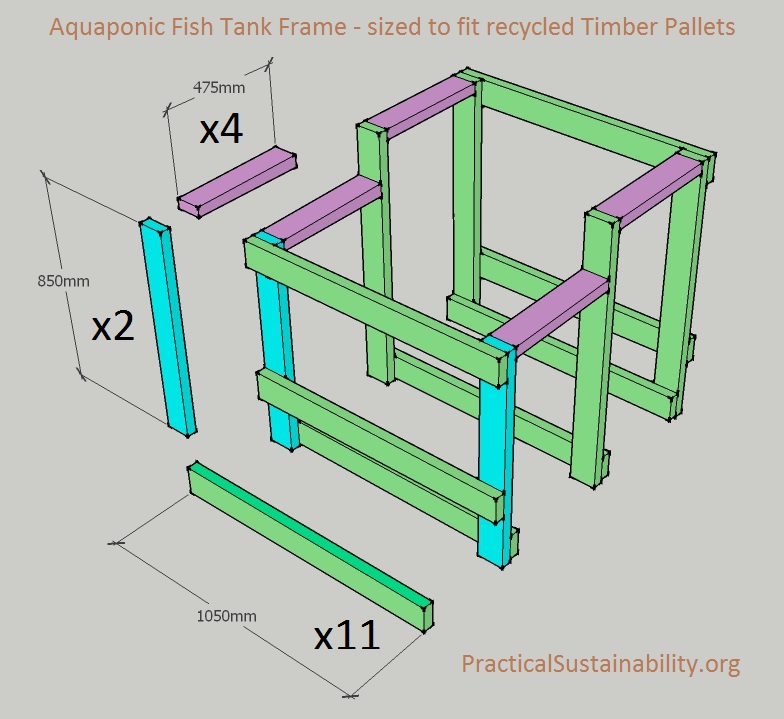 Building the frame: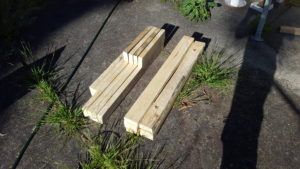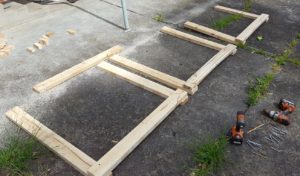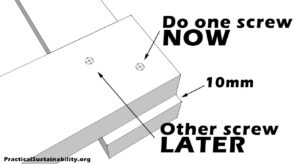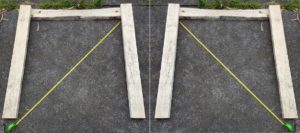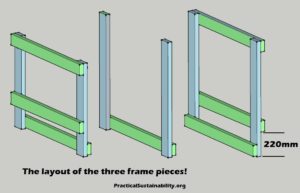 Whack some timber on the front and back pieces of the frame!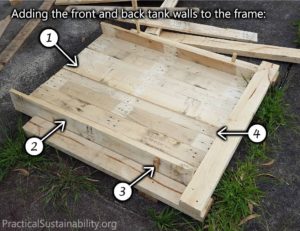 Lay your slats out as shown, these will be the wall of the tank. You won't see the inside of the tank when it's finished, so put the nicest looking side of the timber facing down. You may have to cut one  long-ways to get a tight fit, but don't bother cutting these to length, just leave them at their full size and we'll trim the ends off later.
These boards are loose, and are just spacers to leave room for the other tank walls to connect later.  Make sure these spacers are the same thickness as the timber you plan to use to make the left and right walls of the tank.
I used some scrap timber as wedges to help push the spacers inwards and give the tank wall a squeeze to avoid any gaps.
I lined the end of the slats up with the top of the frame timber, where the arrow is pointing. But you could leave your slats running longer to reach closer to the ground if you want – just don't make them any shorter than I did!
Do this process for the front and back pieces. For the front piece there will be quite a lot of overhang that will be trimmed off.  If you have any damaged timber, you can use it here where the damaged bits will get trimmed off soon. (See where I placed damaged bits in the next picture, and what happens in the picture after)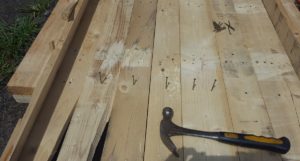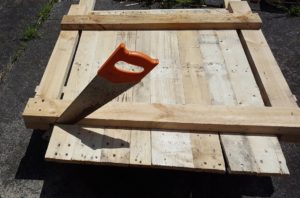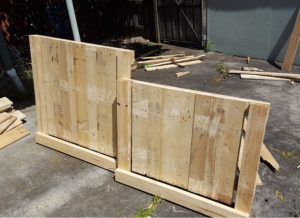 Put it all together: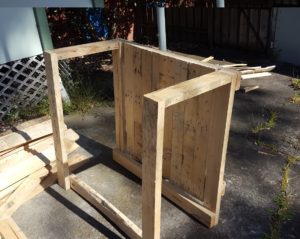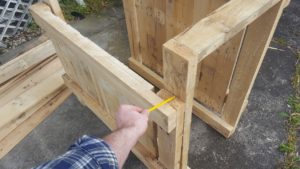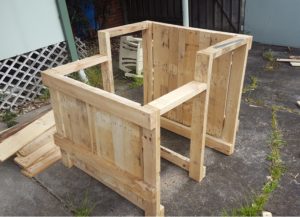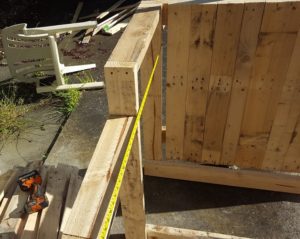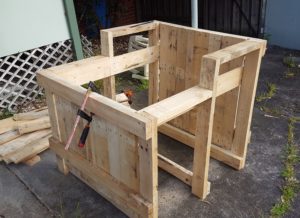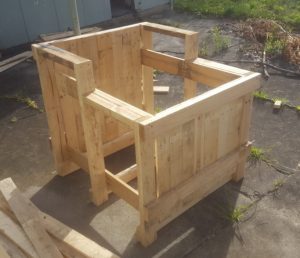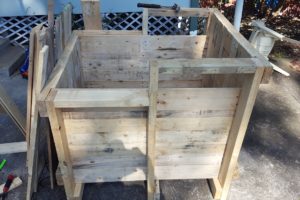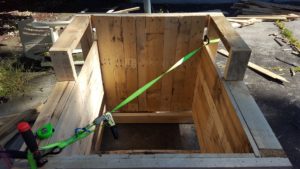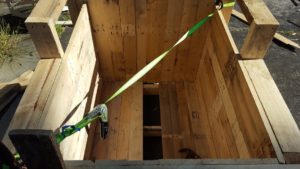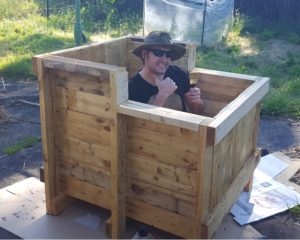 Make the Lid!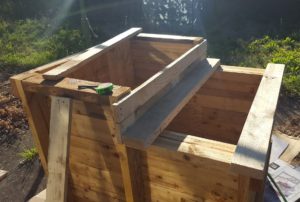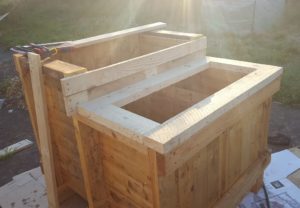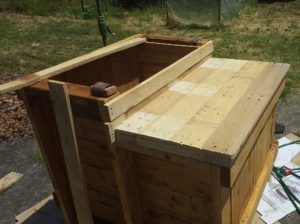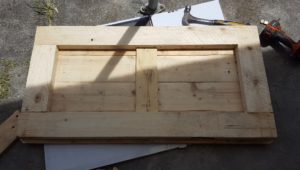 It's time to line the tank with plastic! Put your lid pieces away for now.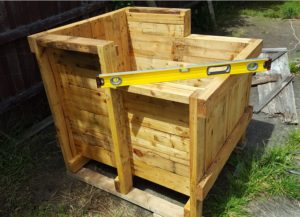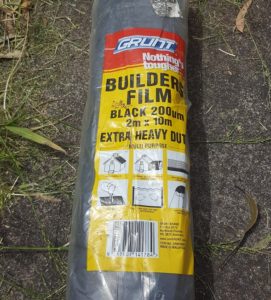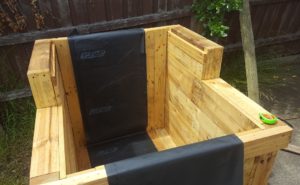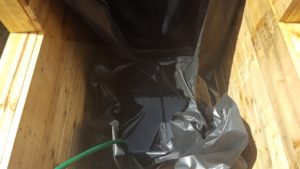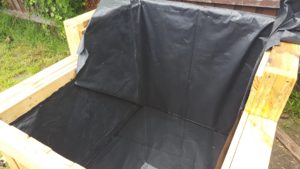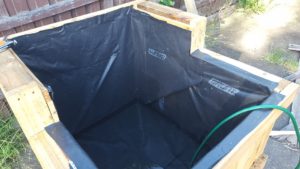 Lining complete! Time to install the lid and last bit of the frame: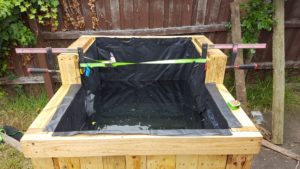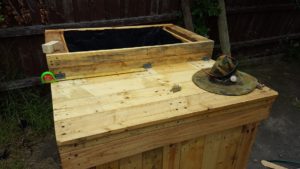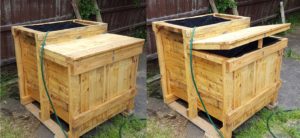 Building the back platform + installing swirl-filter & bio-filter:
NO TIME/BUDGET
I've built the back platform and cut two bucket holes, but haven't the time/money to do the plumbing right now. I gotta go make sure my bills get paid! 
The plumbing will only cost a few dollars, but it will take several hours for me to find the best configuration that will make it possible to replace/clean both filters without reinstalling any plumbing.
Hopefully I'll have time or money soon – follow us on facebook to help out, or get project updates! I'll complete the next part of the project as soon as possible. – Chris. 14/1/2017