Rabbits are one of the easiest animals to raise, and should be considered as an addition to any medium or large garden.
Although their meat is low in vitamins and minerals, they are an excellent source of protein and return useful manure to your garden.
The litters from one ten-pound doe-kept in a 30 inch by 36 inch hutch-can yield up to 80 pounds of meat a year! – Motherearthnews.com.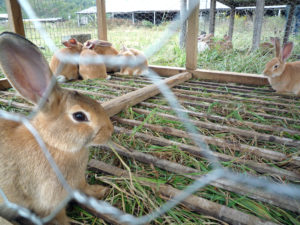 Ideal for small spaces.
Quiet, clean and prolific.
Low maintenance.
Simple.
Excellent ratio of labor-in to produce-out.
Produces rabbit skins as a side product.
Helps keep your lawn or garden managed
Learn More >>