Barrels
Barrels are a good option if you have limited space or budget.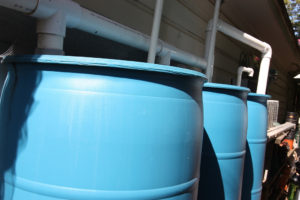 Protection from direct sun recommended
Efficient use of space
Can be made using recycled plastic
Modular – can be expanded
Modular – can split up your barrels to fit the existing locations of your downpipes
Easy to install / place
Durable
Can be recycled
Not recommended for high temperatures in direct sun
Learn More >>
Intermediate Bulk Containers I.B.C
Intermediate bulk containers are reusable plastic containers designed for transporting liquids and powders. Used IBCs can normally be bought quite cheaply.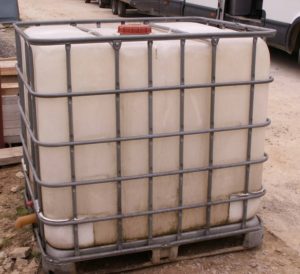 Approx 1m x 1m x 1.1m – 1000 Litres
Approx 3'3 x 3'3 x 3'7 – 264 Gallons
Intermediate size
Efficient use of space
Stackable
Low Cost for small to medium systems
Widely used in commercial applications

Fittings compatible with most systems are readily available
Available new and used around the world
Can be moved with a pallet jack or forklift even when full

Can be buried
Frame can be expanded to include cladding and/or insulation relatively easily

Usually need protection from direct sunlight

Semi-transparant – must be covered or coated to prevent algae growth 
Learn More >>