Heating with compost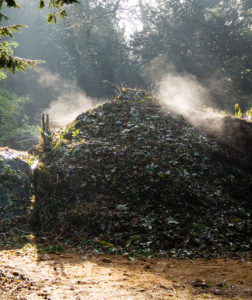 As organic matter is broken down by bacteria, large amounts of heat are produced.
This heat can be collected very cheaply, and is a reliable source of energy no matter the weather. Considering that composting is a part of any sustainable garden system, this energy collection method should not be ignored!
Completely sustainable
Organic and completely natural
Composting is essential anyway
Zero maintenance during compost life cycle
Very cheap
Simple
Reliable
Scalable
Money saving
No overheating dangers
Construction is simple – as you build your compost mound, a coil or piping or tubing is placed in the center. This is then buried with more compost, leaving the pipe connections accessible. Water temperatures of around 70 Degrees C can be reliably obtained by cycling water through the coils.
This can heat homes, water, greenhouses, barns – anything.