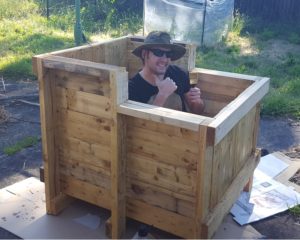 Hi! I'm Chris, founder of Practical Sustainability. I've been planning this organisation for almost five years, and building prototypes for two years. I think I've finally got the skill set to make it happen!  Even the most complex project won't cost much if I do the work myself, and the only way I could get this all started was to do it on zero budget. I've worked doing things like: construction, carpentry, construction site managing, graphic design, animation, programming, 3D modelling, scale model building, painting, video editing, electronics & microcontrollers – and have experience at but not been paid for: welding, fitting and machining, small business management. I've also had approximately 15 million views on flash games I created, alone, so I have a good idea of how the internet works.
I'm sick of working a day job and making rich people richer – it's time to switch over to sustainability projects and make everyone richer.
That's enough about me, here's the spiel:
//under construction
I'll keep this short, there is plenty of other work being done! I'll update to this page ASAP. 
Practical Sustainability is a non-profit enterprise dedicated to designing, building and testing practical new and existing sustainability solutions. We aim to find the most practical options that can be accomplished by any individual, on a  very low budget, even if they live in high-density urban areas.
We believe that any sustainable solution must be attainable by anyone on the planet, which is often impossible for most currently available commercial products due to price.  The majority of the world cannot easily afford basic essentials, let alone worrying about buying products to become sustainable.
Once cheap D.I.Y solutions are proven and tested, we will offer free tutorials and information to anyone who is interested in reducing their environmental impact.
We currently have no budget, and are completely funded by me, the founder of Practical Sustainability. All projects and work has been done on a purely volunteer basis – although with some funding our projects could be massively accelerated.
EDIT1/2/17:  We've now got a trickle of money coming in from website advertising! Pretty soon the website might break even.
Click here to see our most recent project list. (Under construction)
We cannot publish a full list of projects yet, as we must gather funding for patent applications and legal mumbo-jumbo.
If you would like to contact us, help, or find out more, visit:
https://www.facebook.com/PracticalSustainability.org/
We will accept orders or contracts for building solutions for third parties, if it is deemed that the income from such work will advance our research and development goals. If you want us to work for you, there is a far higher chance of acceptance if you allow your desired solution to involve prototypes and new technologies that may not be fully proven.
If you want to donate, here's a PayPal link, leave us a comment with what kind of projects you'd like to see. Other than $20/month that goes to our web servers, 100% of practical sustainability funds go directly to new R&D projects.
There will be other contact methods available soon, but for now, facebook is it!
Thanks.
-Chris